Tiffany Turner's Crystal Keeper Chronicles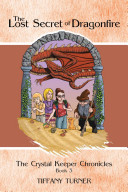 The Lost Secret of Dragonfire won Honorable Mention in the 2013 San Francisco Book Festival
The festival features the new releases for each spring season. It is exciting to be recognized for the hard work put into book three of the Crystal Keeper Chronicles.
The Lost Secret of Dragonfire
Booksigning
Signing Set for June 1
Tiffany Turner will be doing a booksigning at Booksmart Bookshop in Morgan Hill, Ca. It is set for June 1 from 3pm to 5pm. Come out and join Mrs. Turner for an afternoon of Gaelic Harp music, a reading from her book, followed by the signing of her new book, The Lost Secret of Dragonfire.